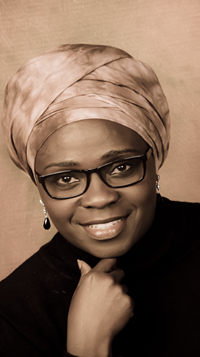 Jennifer Nansubuga Makumbi is a Ugandan novelist and short story writer based in Manchester. Her debut novel, Kintu, won the Kwani Manuscript Project in 2013 and was longlisted for the 2014 Etisalat Prize. It has been called "a masterpiece, an absolute gem, the great Ugandan novel you didn't know you were waiting for." 
After winning the 2014 Commonwealth Short Story Prize for her story "Let's Tell This Story Properly", Makumbi stated in her acceptance speech, "For Uganda, once described as a literary desert, it shows how the country's literary landscape is changing and I am proud to be a part of it." Her story is about a Ugandan woman named Nnam living in Manchester and finds that her 45-year-old husband has died shamefully on the bathroom with his pants down on Easter. As Nnam travels back to Uganda to organize his funeral, she is stunned to discover a web of deception. Described by Makumbi as a tale of immigration and home, her writing relies heavily on Ganda oral traditions, especially myths, Legends, folktales and sayings.
Makumbi has a PhD from Lancaster University, and has taught creative writing and English for the last ten years in British universities. In 2015 she won an Arts Council Grant to research her second novel. Her short story "Malik's Door" came out in Closure a Black British anthology in October 2015. She is currently working on a collection of short stories set in Manchester, UK, which Transit Books will publish in 2018.
BIBLIOGRAPHY
Novels
Kintu, Kwani Trust, 2014, Transit Books, 2017.
Short Stories
Travel is to See, Return is to Tell, Transit Books, 2018.
---