Wednesday, June 14
SCREENING 1: 3:45-5:15pm
Hissein Habre, A Chadian Tragedy
Directed by Mahamat-Saleh Haroun  (2016 | 82min)
Venue: Whitney Humanities Center (WHC)
Brutal dictator Hissein Habré ruled Chad from 1982 to 1990. During those years, nearly 40,000 people died in prisons ran by Habré's police force, the Documentation and Security Directorate (DDS). In Mahamat Saleh-Haroun's powerful documentary, Hissein Habré, A Chadian Tragedy, the director documents the testimony of the dictator's victims. Led by Clément Abaïfouta, chairman of the Association of the Victims of the Hissein Habré Regime and himself a survivor, the film sees the survivors accomplishing an unprecedented feat: bringing an African Head of State to trial.
Two weeks after Haroun's documentary premiered at Cannes, Habré was convicted of war crimes, crimes against humanity, and torture, becoming the first living African President sentenced for his actions. 
SCREENING 2: 7:30-10pm
Taxi Driver, Oko Ashewo (2015 | 104m)
​Directed by Daniel Oriahi
Venue: Whitney Humanities Center (WHC)
With the city of Lagos at night as its backdrop, Taxi Driver, Oko Ashewo tells the story of Adigun (Femi Jacobs), a naïve mechanic unaccustomed to city ways, who comes to Lagos to claim the inheritance left by his deceased father. The inheritance is an old taxi cab, nicknamed Tom Cruiz, and Adigun becomes a taxi driver. He learns on the job how to navigate Lagos streets, and the complicated interactions between the prostitutes and criminals that do business after nightfall. His teacher and mentor on surviving in Lagos at night is Mr. T (Odunlade Adekola) who subsequently becomes his nemesis. Adigun also crosses paths with Delia (Ijeoma Grace Agu) a sex worker, with whom he later forms an alliance. Taxi Driver, Oko Ashewo has been described as a Nigerian film noir, equal parts thriller and comedy. This film has been screened at the 2016 African Diaspora Film Festival in New York, at the Nollywood Week in Paris 2016, and at the 2016 Toronto International Film Festival's City to City Spotlight on Nigerian cinema. 
Thursday, June 15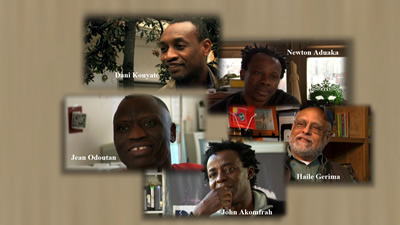 SCREENING 3: 3:45-5:15pm
Creation in Exile: Five Filmmakers in Conversation (2012 | 23m)
with English subtitles. 
Directed by Daniela Ricci. Screening followed by 30 minutes Q&A with Daniela Ricci, Université Paris Ouest Nanterre
Venue: Whitney Humanities Center (WHC)
Daniela Ricci earned a PhD in Cinema at the Lyon 3 University (Lyon) and Howard University (Washington). She teaches film studies at the University of Paris Nanterre. For seven years she organized 'Uno sguardo all'Africa' cinematographic meetings in Savona, and she collaborates with different film festivals. She participates in numerous international conferences, and she has written many articles on her research specialism: contemporary diasporic African films. She has also edited various books, and is the author of Cinémas des diasporas noires: esthétiques de la reconstruction (Harmattan, 2016). Creation in Exile. Five Filmmakers in Conversation is a documentary she made in 2012.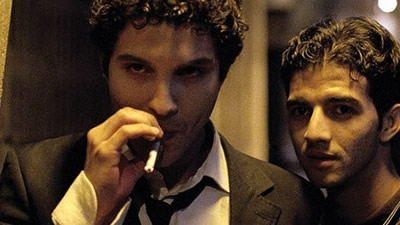 SCREENING 4: 7:30-10pm
Casanegra (2008 | 130m)
Directed by Nour-Eddine Lakhmari. Special event organized by the Yale PIER Summer Institute, including 15 minute Q&A with Nour-Eddine Lakhmari facilited by Ziad Bentahar, Towson University
Venue: Whitney Humanities Center (WHC)
In Casablanca, two childhood friends, Adil and Karim, live a hand-to-mouth existence while dreaming of how their lives will change. One begins to sell cigarettes and tries to put his life back on the right tracks. The other seeks a miracle to solve all his problems: he buys a visa and gets a contract to work in Malmö, Sweden, the mythical city he dreamed of ever since seeing it on a postcard.
Moroccan-born Nour-Eddine Lakhmari is an award-winning director/writer of feature films and TV series. He shot his first short films in Oslo and earned admission to The Oslo Cinema Academy. His first feature film Le regard was released in 2005 to wide critical acclaim in Morocco and Scandinavia. In 2006-2008, Lakhmari directed the outstanding TV series El Kadia, primetime broadcast on the Moroccan TV channel 2M. In 2008, he made an impact on the Moroccan, Arab, and Mediterranean film industries with his second feature film CasaNegra. The feature won 21 international awards, was presented in 25 major film festivals and was selected for representing Morocco at the 2010 Academy Awards (Oscars). Lakhmari's feature, Zero, was awarded best film in his homeland for year 2013 and was the Box Office No.1 in 2013. The film also won awards for best directing and best actor in the Mediterranean Film Festival in March 2013. His most recent film, Burn Out, will be released in 2017.
Friday, June 16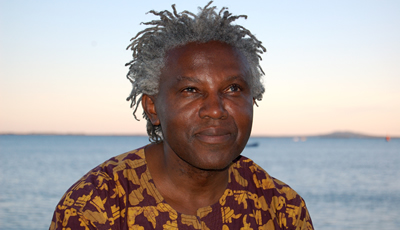 SCREENING 5: 7:30-10pm
Chosen (work in progress | 60m)
English/French with English subtitles, followed by Q&A.
Directed by Jean-Marie Teno
Venue: Whitney Humanities Center (WHC)
Jean-Marie Teno has been producing and directing films for over thirty years for international television broadcast and theatrical release. His films are noted for their personal and original approach to issues of race, cultural identity, African history, and contemporary politics. Teno's films have been honored at festivals worldwide: Berlin, Toronto, Yamagata, Cinéma du Réel, Visions du Réel, Amsterdam, Rotterdam, Liepzig, Los Angeles, San Francisco, and London, to name a few. Many of his films have been broadcast in Europe and featured in festivals across the United States. Teno served in the jury of Idfa, Sundance Film Festival, Yamagata, Hot Docs, and many more, and has been a guest of the Flaherty Seminar, an artist in residence at the Pacific Film Archive of the University of California, Berkeley, a Copeland Fellow in Amherst College, and has lectured at numerous universities. In 2015, he was a Visiting Artist at Wellesley College as a Mellon Fellow. His numerous films include: Leaf in the Wind (2013), Sacred Places (2009), The Colonial Misunderstanding (2005), and Alex's Wedding (2002).
Chosen (Work in Progress) Jean-Marie Teno says: "This is a filmic essay about multiple journeys, travelled in the quest for answers to the existential questions that come our way in the course of our lives. To overcome trauma, many Africans turn to their ancestors to read or interpret the events unfolding before their eyes. To do so, they often undertake a trip home. My search for a place I can call home led me to Bandjoun, my parents' birthplace, where I discovered the Bandjoun kingdom and became fascinated by kingship and its place within the structures of power in contemporary Cameroon. In 2006, I started a film The Fo and I. Due to my reputation as a filmmaker, I was denied access to the Fo (King), and the film was put on hold. At the ALA 2010 conference in Tucson Arizona, I was invited by Professor Naana Biyina Horne (NBH) to attend her upcoming enstoolment in July as a Queen Mother in Akwamufie, Ghana, the birth-place of Akan culture. It was an incredible journey of discovery. 'Chosen' became the key word that led us through this long, fraught multifaceted journey of joy, tears, and sorrow, marked by power games and manipulation.
NBH was chosen to be the sacrificial lamb, to bridge the gap between past and present, between the 'Old World' and the 'New World', as she put it at the time. She chose me to accompany her, and I was like a 'bull in a china shop'. Chosen is a tale of this journey from Tucson Arizona, to Gainesville FL, to Accra, to Akwamufie. A journey in the search of a home."