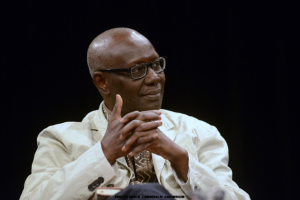 Boubacar Boris Diop is one of today's most prominent African writers with experience in genres as diverse as the novel, play, essay, and feature article. Diop was the former editor-in-chief for Le Matin de Dakar, an independent daily Senegalese newspaper, and after having collaborated for years with the Zurich-based daily Neue Zürcher Zeitung and the Italian weekly Internazionale, he is currently columnist at the London magazine The New African. Diop has also been a visiting professor at the Gaston Berger University in Saint-Louis, the ETH University Zurich, and Rutgers University, where he has respectively held seminars about Senegalese literature in Wolof, novel-writing and remembrance, translating between languages, and Afropessimism.
His most recent work, Kaveena (2016) was published by Indiana University. And after The Knight and His Shadow (2015), in November Michigan University Press will release Doomi Golo, the Hidden Notebooks, the English version of his Wolof novel. His most celebrated novel is Murambi, the Book of Bones (2006), a fictional story inspired by Diop's stay in Kigali, Rwanda, in 1998. In the years following the 1994 genocide, he and eight other Francophone African authors were invited by the literary festival "Fest'Africa" to take up residence at a writer's house in Kigali to participate in the Duty of Memory Project. Deeply influenced by what he had learned of the genocide against the Tutsis of Rwanda, Diop's novel blended the voices of genocide victims with those of the perpetrators. Murambi, The Book of Bones has since been listed by the Zimbabwe International Book Fair's Africa's 100 Best Books of the 20th Century.
Diop has won several awards for his extensive works in French, including the Senegalese Republic Grand Prize in 1990 for Les Tambours de la mémoire, as well as the Prix Tropiques for Le Cavalier et son ombre in 1997. Beyond his writing in French, however, Diop is also passionate about promoting literatures in Wolof. Now available in English and in Spanish, Doomi Golo, was originally published in Wolof in Dakar in 2003 and translated six years later by himself into French.
Boubacar Boris Diop is currently visiting professor at the American University of Nigeria and has created, at the Editions Zulma in Paris, Céytu, a literary collection named after Cheikh Anta Diop's birthplace. In collaboration with Laure Leroy, the Director of Éditions Zulma, and Rodney Saint-Eloi, the Director of Mémoire d'Encrier in Montreal, Céytu aims to publish literary masterpieces from all languages and all cultures into Wolof with the first series of translated works by authors such as Mariama Bâ, Aimé Césaire, JMG Le Clézio, and released in March 2016. He has himself translated into Wolof Aimé Césaire's A Season in the Congo.
BIBLIOGRAPHY
Novels (French)
Le Temps de Tamango, L'Harmattan, 1981.  Republished by Le Serpent à Plumes, 2002.
Les Tambours de la mémoire, L'Harmattan, 1990.
Les Traces de la meute, Paris, L'Harmattan, 1993.
Le Cavalier et son ombre, Stock, 1997. Republished by Philippe Rey, 2010.
Murambi, le livre des ossements, Stock, 2000. Republished by Zulma, 2011.
Kaveena, Éditions Philippe Rey, 2006.
Les Petits de la guenon, Éditions Philippe Rey, 2009 (translation of Doomi Golo from Wolof by Boubacar Boris Diop).
 
Short stories
La nuit de l'Imoko, Memoire d'encrier,Montreal, 2013
Plays (French)
Thiaroye, terre rouge, L'Harmattan, 1990
Essays (French)
Négrophobie, with Odile Tobner and François-Xavier Verschave, Les Arènes, 2005.
L'Afrique au-delà du miroir, Éditions Philippe Rey, 2007.
La Gloire des Imposteurs : Lettres sur le Mali et l'Afrique, with Aminata Dramane Traoré, Éditions Philippe Rey, 2014.
Translations into English
Murambi, the Book of Bones, Indiana University Press, 2006.
Kaveena, Indiana University Press, 2006.
The Knight and His Shadow, Michigan University Press, 2015.
L'Afrique Au-delà du Miroir, Editions Philippe Rey, 2007 (Africa Beyond the Mirror) translation from the French by Vera Wülfing-Leckie and Caroline Beschea-Fache), republished by Ayebia Clarke Publishing Ltd., Oxfordshire, UK, 2014. Distributed in the US by Casemate-IPM Publishers.
Doomi Golo, The Hidden Notebooks, Michigan University Press, 2016.
Novels (Wolof)
Doomi Golo, Papyrus, 2003.
Bàmmeelu Kocc Barma (to be released, April 2017)
---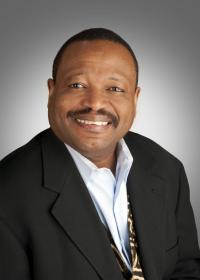 Simon Gikandi is a Robert Schirmer Professor of English at Princeton University and served as editor of the PMLA, the official journal of the Modern Languages Association (MLA), for five years (2011-2016). He was born in Nyeri, Kenya and received a B.A with First Class Honors in Literature from the University of Nairobi. Gikandi later went on to become a British Council Scholar at the University of Edinburgh in Scotland where he graduated with an M.Litt. in English Studies, and later received his Ph.D. in English from Northwestern University. He is the author of many books and articles, including Writing in Limbo: Modernism and Caribbean Literature, Maps of Englishness: Writing Identity in the Culture of Colonialism, and Ngugi wa Thiong'o, a Choice Outstanding Academic Publication for 2004, and co-author of The Columbia Guide to East African Literature in English Since 1945. He edits for The Cambridge History of African and Caribbean Literature, the Routledge Encyclopedia of African Literature, and most recently for Vol. 11 of The Oxford History of the Novel in English: The Novel in Africa and the Caribbean Since the 1950s (2016). His latest book, Slavery and the Culture of Taste (2011) focuses on how the violent exploitation of African enslavement actually shaped European theories of taste, beauty, and high culture. Slavery and the Culture of Taste has since become the co-winner of the MLA's James Russell Lowell Award and of the Melville J. Herskovits Award for the most important scholarly work in African studies published in English. In December 2016, Gikandi was elected 2nd Vice-President of the Modern Languages Association (MLA) and is slated to become President of the Association in 2019.