Thursday, June 15, 2017 -

3:45pm

to

5:15pm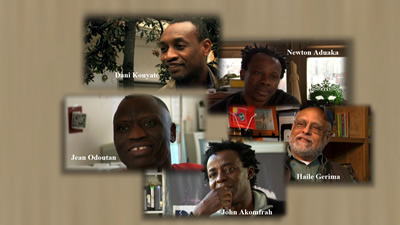 Creation in Exile: Five Filmmakers in Conversation (2012 | 60m)
with English subtitles. 
Directed by Daniela Ricci
Followed by 30 minutes Q&A with Daniela Ricci, Université Paris Ouest Nanterre
Venue: Whitney Humanities Center (WHC)
Daniela Ricci earned a PhD in Cinema at the Lyon 3 University (Lyon) and Howard University (Washington). She teaches film studies at the University of Paris Nanterre. For seven years she organized 'Uno sguardo all'Africa' cinematographic meetings in Savona, and she collaborates with different film festivals. She participates in numerous international conferences, and she has written many articles on her research specialism: contemporary diasporic African films. She has also edited various books, and is the author of Cinémas des diasporas noires: esthétiques de la reconstruction (Harmattan, 2016). Creation in Exile. Five Filmmakers in Conversation is a documentary she made in 2012.