Friday, June 16, 2017 -

7:30pm

to

10:00pm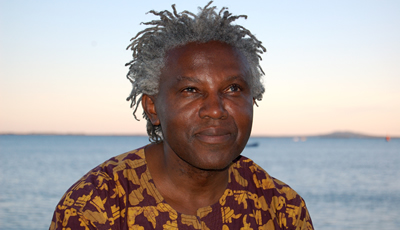 Chosen (work in progress | 60m)
English/French with English subtitles, followed by Q&A.
Directed by Jean-Marie Teno
Venue: Whitney Humanities Center (WHC)
Special event by the Film and Visual Media Caucus of the ALA including Q&A with the filmmaker. 
Jean-Marie Teno has been producing and directing films for over thirty years for international television broadcast and theatrical release. His films are noted for their personal and original approach to issues of race, cultural identity, African history, and contemporary politics. Teno's films have been honored at festivals worldwide: Berlin, Toronto, Yamagata, Cinéma du Réel, Visions du Réel, Amsterdam, Rotterdam, Liepzig, Los Angeles, San Francisco, and London, to name a few. Many of his films have been broadcast in Europe and featured in festivals across the United States. Teno served in the jury of Idfa, Sundance Film Festival, Yamagata, Hot Docs, and many more, and has been a guest of the Flaherty Seminar, an artist in residence at the Pacific Film Archive of the University of California, Berkeley, a Copeland Fellow in Amherst College, and has lectured at numerous universities. In 2015, he was a Visiting Artist at Wellesley College as a Mellon Fellow. His numerous films include: Leaf in the Wind (2013), Sacred Places (2009), The Colonial Misunderstanding (2005), and Alex's Wedding (2002).
Chosen (Work in Progress) Jean-Marie Teno says: "This is a filmic essay about multiple journeys, travelled in the quest for answers to the existential questions that come our way in the course of our lives. To overcome trauma, many Africans turn to their ancestors to read or interpret the events unfolding before their eyes. To do so, they often undertake a trip home. My search for a place I can call home led me to Bandjoun, my parents' birthplace, where I discovered the Bandjoun kingdom and became fascinated by kingship and its place within the structures of power in contemporary Cameroon. In 2006, I started a film The Fo and I. Due to my reputation as a filmmaker, I was denied access to the Fo (King), and the film was put on hold. At the ALA 2010 conference in Tucson Arizona, I was invited by Professor Naana Biyina Horne (NBH) to attend her upcoming enstoolment in July as a Queen Mother in Akwamufie, Ghana, the birth-place of Akan culture. It was an incredible journey of discovery. 'Chosen' became the key word that led us through this long, fraught multifaceted journey of joy, tears, and sorrow, marked by power games and manipulation.
NBH was chosen to be the sacrificial lamb, to bridge the gap between past and present, between the 'Old World' and the 'New World', as she put it at the time. She chose me to accompany her, and I was like a 'bull in a china shop'. Chosen is a tale of this journey from Tucson Arizona, to Gainesville FL, to Accra, to Akwamufie. A journey in the search of a home."